Hello world! There have been so many thoughts going through my head lately and posts I've wanted to write. But obviously that hasn't happened. I'd like to spend more time writing deeper things, but you know what? You gotta start somewhere. Here are 7 random things about life lately. Join in with all the fun people today.
1. Life has both been a whirlwind and super slow since graduating in May. Being back here blogging reminded me of this scene in Mulan: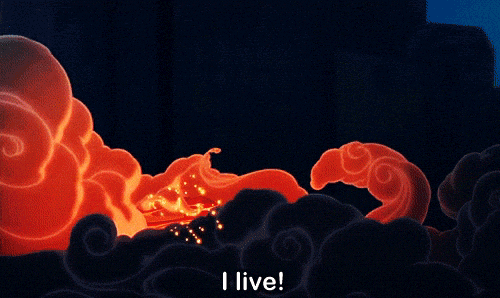 On the one hand, I had my first day of work 4 days after getting home and jumped right into real adult life. That felt crazy fast. On the other hand, that's mostly what I've done since May: drive to work, work, go home, eat, sleep, repeat. Compared to college life and everything I was doing, real life can actually be quite boring. I'm working on finding ways to spice it up and do new fun things . . .
2. Speaking of finding new things, now that I've moved (as of almost 2 weeks ago), I feel like I can finally do that. My sister and I found a place between our workplaces and are close to feeling mostly moved in. It's both weird and super awesome to have our own place. And SO nice to have a commute of about 40 minutes compared to over 2 hours.
3. One of my favorite parts of the apartment? My bed. It's probably the single thing I spent the most $$ on, which I think is worth it. Here's a little sneak peak complete with my messy Craig's listed corner desk, $7 Ikea lamp, and wrinkled pillowcases for a little extra pizzazz:
4. Another fun thing about being an adult is cooking. Tonight I'm going to make a polenta + veggie + cheese casserole. I've never made polenta before, so we'll see how that goes. Anyone have fun squash recipes or others appropriate for fall?
5. We all know how crazy the world is, so I'm taking this opportunity to remind you there's still good stuff out there. Remember that. Just take a look at the sunset! I took this the other night stopped at a red light after picking up a tree from Craig's List, which is pretty awesome if you ask me. We can choose to focus on the bad stuff or look for the good. Focusing on good stuff (even though we do have to deal with crap too) really makes life better. Also, who wouldn't be happy with an awesome new tree in your car?
6. I don't know if this quote is legit or not, but I found it recently, and love it: "Teach us to give and not count the cost" Words to ponder from St. Ignatius.
7. On an interesting note, I really like this article from earlier this week: The New Culture of Life. It's about the growing trend of people who are feminist and/or non-religious within the pro-life movement. I find the reaction to this quite interesting. What do you think? I'm a big fan of a consistent life ethic, regardless of other beliefs we might disagree on, and am looking forward to doing more with that soon.
What have you been up to lately? Are you proud of me for not mentioning the election or politics here? That was hard! I have much to say on the topic, but will save it for later 😉
To Life,