When I last posted, I was on a roll. My latest articles became some of my most popular – very quickly . . . and then I didn't write for 10 days.
I'm not going to make excuses, because there wasn't a conscious reason. It just kind of happens sometimes. So what's been going on?
SFLA flew me out to D.C. for the kick-off training weekend for the Wilberforce Leadership Fellowship. It was rather impressive, and I'm honored to be counted among this year's fellows. SFLA provides all kinds of resources to campus groups, which I did not know the depth of! It's wonderful to see an organization committed to giving more than our hearts to the movement. They bring professionalism and best practices to the table, which I absolutely love. As part of the fellowship, they pair you with a mentor for the year, and I was matched with Peggy of Heartbeat International. It will be wonderful to learn from someone so closely involved with the pregnancy help movement!
One of the speakers they brought in, Jeanneane Maxon of Americans United for Life, tweeted what she was doing, and a self-described "hard-core pro-abortion militant" replied asking if it was preschoolers for life meeting. SO! We took a pro-life selfie to share with her 🙂 She accepted that we are legitimate students.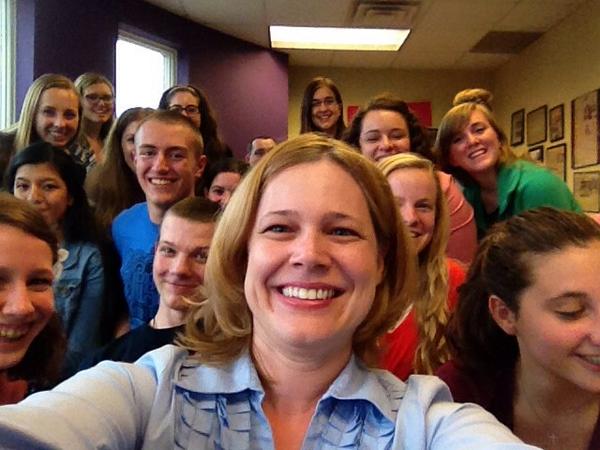 My internship with RealOptions comes to a close this week just as soon as I give my final presentation. It's been a wonderful learning experience. I was responsible for researching data systems and will be presenting my case for support for the best program available. It was also wonderful to be able to shadow their clinic directors and talk with their campus outreach coordinator!
For a while I've been saying that my goal is to run a life-affirming pregnancy center, but more and more I keep coming in contact with the rising issue of unity within our movement. Almost every organization I've been involved with has had issues with unity, and it's widely known that the pro-life movement in general has issues with this.
We have people who carry huge bloody signs outside clinics yelling "don't kill your baby!!" and then people who refuse to do anything but pray. Having direct contact with this outside clinics makes the whole situation so real. And I'm confronted with the fact that our lack of unity stops us from doing the work we're called to do. I firmly believe our movement needs a greater focus on best practices, with an increased number of professionals. We need to ask the question "What is the best proven and logical way to go about this?" not "Abortion is bad. What is the farthest I'll go to stop it?". As you can tell, there's a whole post coming on this.
Otherwise?
I represented Benedictine while tabling at the NAPA Institute Conference. That was neat!
Books . . . I love you. It's been so long since I've read this much and I can't wait to share some On My Bookshelf posts about them!
Also, I made cinnamon rolls. Want to come have coffee?
Summer is coming to a close, and I'm looking ahead to the school year. Books are on their way (most expensive ones yet!), and we're cooking up all sorts of plans for Ravens Respect Life! Time to enjoy time away with extended family, finish a few books, and soak up some sun before the trek back to Kansas.
Thanks for reading!
To Life,